My boyfriend and I had just moved back home, to the town we grew up in. All of our friends had met this guy, Kyle, and had been hanging out at his house quite a bit. A lot of friends were at Kyle's house, and our friend Josh started having a vision. He was acting it out as though he was in the vision. He was acting out getting stabbed, he was on his hands and knees acting as though he was getting stabbed behind the couch where the X is on my floor plan. All of my friends were scared and freaking out. I heard about this after the fact, it happened before I got to meet this Kyle. After I started going to Kyle's house they told me about it, my boyfriend had been there when this happened also.
I decided to try to verify his story with a ouija session. The story is that a man killed his wife and two kids. I spoke to a little girl Elizabeth that helped to verify it. After a few sessions with her she told us she wasn't allowed to talk to us anymore because her mom didn't want her to.
Eventually, we decided to talk to the father even though he was a murderer and we would rather be in contact with the victims. I saw him clear as day one time. I had just pulled into the driveway with a friend with me in the car. I saw the apparition of the father on the inclosed porch through the window of the door. It was dark outside and I was scared but I didn't say anything to my friend. I sucked it up and we walked inside the house, his apparition had left by then. Later that night I was in one of the bedrooms with that friend playing ouija board, like always. And I told her that I saw him when we arrived that night and she told me she did too. She started describing what he looked like and it was the same as what I saw. This was comforting because it was conformation that I wasn't crazy.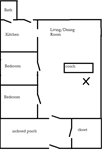 One afternoon, all my friends were sleeping and I was on the couch painting my fingernails and toe nails just trying to waste time until everyone would wake up. I kept hearing the door slam. I would get up and run to the front door of the living room and look though the porch at the front door of the house. It would be shut but the chain lock would be swinging as though it had just slammed. While I was at that door I would hear the back door from the kitchen slam and I would run there to try and catch it in the action. This happened several times, running back and forth.
One night, I was sleeping on the couch at Kyle's house. I was trying to sleep on the couch. Kyle and my friend Leia were sleeping in his room. I heard footsteps that sounded as loud as if it were a person walking right next to me. It went from the kitchen to back behind the couch. I just lay there stiff. That is exactly where my friend Josh acted out getting stabbed. It makes sense that he would get the knife from the kitchen. It seemed to just repeat every ten minutes or so. I finally yelled for my friend leia and she turned the lamp on next to the couch and talked to me for a minute before going back to bed.
I believe this man really did kill his family and that he buried them under the house in the X spot.
Kyle always complained about dishes being thrown around. He would be in bed and would hear his dishes breaking. Things like that seemed to happen all the time at that house. He would yell at the spirits when things would happen. I think his lack of respect for them may have caused so many outbursts.
One afternoon I was playing Ouija in one of the bedrooms with a friend, and my boyfriend was in the living room playing video games. He didn't know what we were doing though it was pretty common that we were playing ouija. He came in the bedroom and yelled at us to stop. A wooden cross that was sitting right next to him on the carpet moved ninety degrees.
This is also the same house that the YOU ARE MINE story happened in if you read that post of mine.