For almost 2 years Johnny lived with us. I am not saying that his presence was constant. Sometimes we would wonder where he went to as we wouldn't hear a peep. I would ask Stewie, "Where's Johnny?" Time after time he would run around the house searching and every time he would end up pawing at the door of closet in the guest bedroom.
We became comforted by his presence and considered him part of the family. Wayne and I tried to practice good parenting habits and gave a lot of love and praise.
We made sure Stewie and Johnny were in bed by 9pm. We eliminated the "F" word from our vocabulary, we tried to keep arguments to a minimal and we made sure there were rules to be followed by our newest family member.
1) No pulling of tails.
2) Not allowed in bathroom if the door is shut. (I need my meditation time.)
3) Not allowed in bedroom if the door is shut. (We need some private time.)
4) Do not touch knobs on the oven. (I burned a few pie crusts because the oven was cranked up to 500 degrees.)
5) Do not turn water on in sinks. (Someone flooded the laundry room.)
6) Do not play with the thermostat. (I came home to a 90 degree house on a 50 degree day.)
7) Do not touch Wayne's die cast cars. (We know that story.)
8) Only pet Chewie gently as she is old and cranky. (We can hear her growling a warning from under the dining table "Grrrrrr...grrr.grr.grr.grrrrrr" She is letting Johnny know he may look but not touch.)
9) Not allowed to shut Stewie in the garage or in the downstairs powder room. (We caught on it was Johnny after the 5th or 6th time.)
10) Never unlock outside doors and or leave open. (Wayne and I came home several times to a wide open front door. Luckily Stewie and Chewie were cowering under our bed and were not brave enough to go exploring outside.)
Wayne and I even wrapped a few gifts for him the following Christmas. I elected to wrap up a rubber ball and a few hot rod cars. Wayne on the other hand wrapped a very nice remote control Jeep. Hmmmm... I wonder who that present is really for?
I'm not sure if Johnny ever really played with these items, though I did find the hot rods on the floor of the closet in the guest bedroom on a couple occasions.
I was curious about Johnny and spoke to a neighbor who resides a few houses down the street, who told us he had lived in his house since he married 45 years ago.
He went through the numerous families that had lived in this house, several had children. He remembered a family who lived in the house in the late 60s. He said they had a son who had died when he was 22 years of age. He recalled that they were very private and that the son was mentally handicapped. He said another neighbor had told him the boy had died of natural causes and since there was no funeral his wife sent up a card and some food for the family.
His memory a little fuzzy he thought his name was Jake. He would hear the mother calling for "Jakey!" Johnny (Jake) would be sitting on the driveway wall with his dog, waiting for the dad to get home from work. Jake would hoot and holler when he would see his dads Ford pickup coming down the road. He said the family moved out about a year after Jake (Johnny) had passed away.
Johnny continued to amaze us with his ability to manifest even if was only for a few seconds as well as his ability to be heard. I would hear his childlike voice humming a little tune. I would find my self humming the same tune hours later; I would say "Thanks for the song buddy!"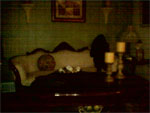 I started noticing last autumn that Johnny was around less and less and over the course of the winter I hadn't seen him at all. I asked Wayne "Have you noticed Johnny around?" He said he has seen some shadows and noises but didn't think it was Johnny but just our ghost cat. The house just seemed too quiet. No Johnny and even the cat was scarce.
This past March Chewie's, our senior dog, health was deteriorating. The vet said all that we could do was keep her comfortable because her time was coming soon. Some days she was her usual self running around and demanding food, some days she was completely out of it.
The night before she passed I woke up to her whining. I walked down the hall and she was curled up under the table and I saw Johnny lying beside her. I approached them and I felt something brush past my leg startling me. I looked up and Johnny was gone.
I slept on the floor with Chewie that night until 6 am when I had to get up and get ready for work. Stewie laid down in the spot I vacated and laid his head on Chewie's back. Wayne assured me he would sit with her until I got home and would call me if I was needed. Wayne said all during that time he was seeing shadows and hearing things but Chewie had slept through most of the day.
I got home around 6 pm that evening and immediately went to Chewie, she stumbled into my arms as she was so weak. I started crying because I knew it was time. I knew she had been waiting for me to get home to her. I sat on the floor trying sooth her and talked about all the fun we had at the beach and on our walks and how many bunnies there would be where she was going. In my despair I could feel a comforting hand on my shoulder and saw Johnny leaning against Wayne as Chewie slipped away.
I don't really remember much more about that night but I did wonder later on about the hand that was on my shoulder.
A few days later I was home alone with Stewie and I called out for Johnny and for Chewie, thinking maybe they were hanging out somewhere together. Stewie laid his head on my lap looking at me sadly. He was letting me know that they were nowhere around. I asked him as I always did, "Where's Johnny?" Stewie lifted his head and he looked just passed me at something that caught his interest behind me.
Then...I heard a female voice whisper in my ear, "He was just passing through."