This happened about 20 years ago now probably even more. There is a big age difference between me and my older sister almost a 12 year age gap. I was only young at the time think I was about 6 or 7 and my sister had just moved away to university. My sister used to look after me when I was young as my mum who we lived with had a full time job at the time and because my sister had lots of time off college for study leave she always used to look after me during the day while she did coursework and revision.
Now because my sister was living away and my mum still full time we had one of my mums friends come over her daughter same age as me was and still is my best friend so she used to come over after school. Our house is nothing out of the ordinary just an ordinary house built on a 1970's era housing estate. My sister was like my second mum and I can always remember before she moved out she told me not to go in her bedroom and jumble around with her stuff.
One day me and my friend was really bored so we decided to go in my sisters room. We mucked about on her keyboard for a bit and because her room was the biggest and had wooden floor we messed around sliding on our knees on the floor and other bits and bobs. We then had a nosey in her wardrobe I can always remember my sister always wore nice designer clothes. However because she had moved out the wardrobe was pretty bare there was only a few jackets and coats in it and lots of empty shoe boxes. Nothing really caught our attention but right in the corner of her wardrobe was a pair of white and blue running shoes. They were my sisters old ones that's why she probably didn't take them with her they were quite tatty and old and still quite dirty.
So me and my friend took them and decided to clean them in the bathroom sink, I can remember we got mud all over the sink the sink was literally black. We took them outside in the garden our garden was quite long but it was narrow. So we decided to race back and forth up and down the garden and time ourselves we both took it in turns with the shoes. We soon got tired and bored. When we went back to the house I can remember seeing my mum in the window so I quickly threw the running shoes in a bush because I knew I would be in big trouble for taking them out my sisters room.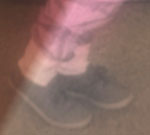 I totally forgot about leaving the shoes there that day. We used to leave the back door open in summer and my mum told me to go and close it lock it up later that day or something on the line of that. This is where the weird stuff happened and I can always remember this very clearly. My living room was opposite the stair case and you could see pretty much all the way up the stairs as you come out of my living room. As I did so I saw those running shoes walking up the stairs with no one in them, it was definitely a walking motion as well not hovering levitating etc just like as if a pair of invisible legs was in them. The stairs where also wooden but they wasn't making a noise as they ascended up the stairs. I can remember just starring at them it didn't scare me at all I was just really amazed. As they got up to the top of the stairs they stopped in the middle of the landing their backs where still facing me. They where then just motionless for a short time probably 3-5 seconds then they began to shuffle a little bit then they turned left towards my sisters room where I had been playing earlier on that day they then walked along the landing then disappeared behind the wall and out of sight still no sound though. I can always remember just looking up the stairs after that happened it did really shock me and my mom started shouting at me telling me to go and lock the door.
I really wanted to go in my sisters room and see if they were in their and it wasn't just me imagining stuff but it took me 2 or 3 days to build the courage up; I can't remember, to actually go back in her room to have a look. I made my friend actually come back in her room with me. There wasn't anything in the room and my friend started calling me a liar then I began to get upset and angry so I opened up the wardrobe and sure enough those running shoes where in the exact place as we found them a few days earlier bang in the corner facing the same way. My friend started saying sorry and she actually picked up the shoes and put them on the bed in front of me. Another freaky thing here there was mud just above the soles on them like they had before we cleaned them. I can remember throwing them back into the wardrobe and never going in my sister's wardrobe again!
I've recently I told my sister all about this and she was really intrigued about it all The only thing I can think of is that a ghost moved them who was looking over me and didn't want me getting into trouble off my family as I had been told to not do something but I went and did it? Oh I don't know! Sorry about my poor story telling but this is 100% true and to be honest it's the only paranormal experience I have ever had! I do have pictures of my mums old house if that does help? And I also might be able to dig out a picture of my sister and those shoes in particular? I have lots of old piccies from my childhood:) Please if you could am no expert on the paranormal I don't come from a paranormal based background but what I saw that day I really can't explain so maybe you could explain a bit more for me?