A little about me before I start. I come from the Pacific where black magic and paranormal activities are somewhat common. I'm not a good writer so bear with me. I will write what I can remember.
Let's start with what happened recently about 2 months ago. My family and I just got home from vacation. And that night my brother 13 years old couldn't go to sleep. He kept saying a butterfly is disturbing him. To that I just thought he was just having jet lag.
A little about the boys room, its always so cold in the nights. And whoever slept in there said they felt like they are being watched.
A few years back my sister, my cousin and I slept in the boys room. There was a double bed and a single bed that we joined together.
I slept in the middle, it was sometime in the morning like around 3am. I woke up to a noise by the window, like some one was playing with the curtain. Sound of someone running their fingers on the net. We are on the second floor, so the noise can't be coming from outside.
Then I felt someone walking around us and dropped one of my baby brother's toys. Now this toy, even if you put batteries in it, its not going to come on. So to my surprise it was working, playing its music. I turned around and poked my sister, she was awake and I called out to my cousin and she was also awake. Another thing, these two are heavy sleepers. I told my cousin to turn the lights on, then everything went quiet. We slept after that and even in the morning we didn't even talk about it. Like we forgot about it.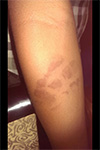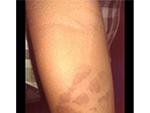 Anyways back to my brother's story. So after 2 days from when we got back, we sat down for lunch when I notice some red swollen marks on his forearm. I asked him 'what happened?' He says he doesn't know. My mom thought it must've been his heavy school bag leaving the markings.
Say after a week, the markings showed something to be a big dogs paw print.
Yes, demon dogs are used in black magic beliefs.
I told my uncle who was around at that time, and he rubbed lime on the markings (Its a white powder like made from clams from the sea used to eat with betel nut). My uncle said its not from a dogs paw, because if it was it would've disappeared already.
A week after that, the markings have became more permanent. It looks like a hand print, its red and swollen. I took a picture of it, my brother said its not paining or anything. My uncle thinks its a spirit pulling my brothers arm while trying to get up in the morning, because the spirit only comes around in the night. But my aunty says its a child spirits hand print, she prayed for him and said that my brother is strong not to have fallen sick.
I don't know if this story fits for this site or not. But if the readers are interested, I have more.