My best friend brandon's house was re-built in the 1800's after a fire. In that fire burnt a family of 3, a mother, a father, and a little girl. I loved to go to brandon's house and play with his ouija board, we never picked up on anything before... Until now. It was my cousin Amber, me, and our friend brandon (we were at his house of course). He brought out his home-made ouija board (it was cardboard with letters from another ouija board glued on and it was laminated).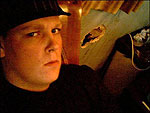 We placed our fingers on and asked "is anyone there?" At first nothing, I had said "why are we even doing this again?" We asked again "is there anyone there?" and yet again nothing, so amber and brandon took their fingers off the board and I was bored so I tried again "is anyone there?" it started moving slightly, it didn't give an answer, just started moving so I told amber and brandon to put their fingers on again and we asked "can you move again?" nothing happened, I tried it alone I said "are you there?" it went to yes very slowly, I tried another question "boy or girl?" it only spelt out g-i-r then stopped. I said "a girl?" she replied yes, I kept asking questions "what's your name?", this time she spelt out the whole thing A-n-n-a-t-o-l-e. I said "that's a beautiful name, how old are you?" she said 9, I continued asking questions such as... Where you in a fire? (yes) why didn't you answer before? (brandon) brandon? (I don't like him?) why? (he slams the door) is it too loud? (he's messy).
I started laughing, I asked where are you? (behind the door) I was shocked at this answer, stupidly I got up and looked behind his door (well in his closet) I went back "I can't see you" (not the closet). I kind of got scared after that, so amber started using it "do you like me?" (no) "do you like Nadya" (yes I do), well amber continued to ask questions and she said she was a demon sent from hell to kill brandon and she said my soul mates name is Benjamin.
I haven't talked to her since brandon's board got thrown out accidentally, but every time I go in his room, I wave hi and say "hello annatole".
These words aren't exact, I just remember some things she said because they affected me, they were either really funny or really scary, but we did write these questions and answers down so we can remember.
It was friday and I was sleeping over at my friend brandon's house it was after our ouija encounter with annatole after a while I was getting bored so I went to the living room to get my backpack, while I was looking through my pack I kept hearing noises from the kitchen, I thought it was one of his cats (he has 5), after about the 3rd time I heard something, I went into the kitchen, I saw a women with her face half burnt in the kitchen, facing away from the stove. I ran to brandon's room. I hadn't told him what happened, he said he had heard crying so I told him what I saw, he said we see her all the time, next thing we know there's another noise so we say "if anyone's here please let us know", well nothing happened, so I said "they're scared they wouldn't dare do anything with the both of us in here" (I said that because I hear if you provoke a spirit, they'll do something, it couldn't have been his family because they were in west virginia so we were all alone). All of a sudden we heard banging on the ceiling and the mirror above his bed fell down, not even an inch from where he was sitting, almost hitting his head. We went quiet for a minute, then started smelling something burning, we saw smoke from under his bed, so he moved it, then we saw the floor smoking. After the smoke cleared there was a tiny triangle on his hard wood floor (maybe 2 inches) we ran out of that room so fast and ended up calling someone to take us to my house...