My dad passed away in December of 2005. He was 67 and seemed very healthy considering he was a heavy smoker. When he was taken to the hospital, he told us he knew he wasn't coming home and that he had laid out the suit he was to be buried in along with his will. I told him he was being silly and that he would be home soon. At the hospital, the Drs. told us he had severe heart blockage and would require bypass surgery immediately if he stood a chance of surviving.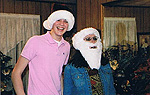 They performed the surgery and said it went well, but he never woke up from the surgery, he lived only 2 days after. A few weeks later, we were at my mother's house for Christmas, it was my husband and me, and our 2 sons, ages 12 and 6, my brother and his wife and his 4 children and my mother. My parents loved Christmas and still treated us as though we were children. There were just tons of presents in the living room and we sat down to pass out gifts. My sister in law and nephew were elected to play Santa as we call it and they have to wear Santa hats. I was taking their picture in front of the Christmas tree and in the curtain behind the tree you can see the perfect image of my dad's silhouette in the picture.
Since that night we can hear him upstairs walking around in his bedroom and his tv will come on and there is no one upstairs. I also have smelled smoke in the living room by his recliner where he watched tv and smoked after supper. My kids say when they spend the night with my mother that my dad tells them goodnight and then you can hear him going upstairs to bed. It scares them and they don't like to go over there anymore.
As time goes on more things are beginning to happen in the house. Dad was the only one that went upstairs and since his death we rarely go up there for any reason. On occasion we have went up there to go in the attic and his toilet will flush and no one is in there. Should I just let him be or is there anything I can do to help him move on?