Ashmore Estates was built in 1916, and was a fully functioning facility until the late 80s when it closed its doors for good. Originally, the land was part of the Coles County Poor Farm, which was home to the poor and mentally insane from 1857 to 1869. The conditions were terrible and there were 32 recorded deaths that occurred between the years 1870 to 1879, though there is estimated to have been hundreds of undocumented deaths on the grounds over the years. By 1911, the conditions had become so bad that the building was officially condemned. In 1916 the new building now known as Ashmore Estates was built and opened. It was run as a poor farm until 1959 when it was turned into a psychiatric hospital. The hospital ran until 1986 before lack of funds shut it down.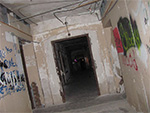 This was one of the more active investigations that our team has been on. You could feel the energy in the building as soon as you walked in. It constantly felt as if you were being watched by hundreds of eyes peering out of the darkened rooms as you pass by. As we set up our equipment throughout the building we all had the feeling that it was going to be a fun investigation. However none of us expected to experience the activity that we did or the evidence that we would later discover had been collected.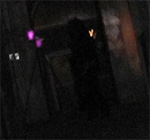 We experienced our cameras having their on/off switch physically being turned off by themselves, many intelligent responses on our equipment, one team member felt as if something had walked past her and shoved her out of the way, and we also experienced a lot of sounds and shadow movement. At one point we were asking whatever was with us to touch a piece of our equipment if it wanted us to leave that particular floor. Not long after that our MEL meter/ REM pod started to alarm which only happens if something is touching the antennae. We wanted to make sure that it was not a coincidence so we asked whatever was there to do it again, and once again the meter started to alarm. We also captured a great photo of a shadow figure at the end of one of the hallways we were investigating, which was a great piece of evidence.
Overall this was a very memorable investigation and I would suggest anyone who would like to experience the paranormal yourself to head over to the Ashmore Estates website and book an investigation. Our group also has the investigation posted on YouTube under our St. Croix Paranormal YouTube channel for anyone who wants to watch the investigation for themselves.