I am Australian, but I live in china. I go to school here. I have recently taken a trip to the Gu Yi Ju Ancient caves. These caves were the home for the banished emperor and his followers over 600 years ago. The government soon found out the hiding place and sent the royal guard to capture the emperor.
The soldiers finally caught up with them and massacred all of the emperors followers and soldiers, set fire to the camp and took the emperor back to Beijing.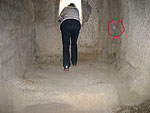 We went to the village which is built into the mountain, only a few of these are open. I took about 40 pictures and 15 contained orbs. Most were following my Aunt, who was visiting. They seemed to be drawn to her. One was in the corner on the floor, like a baby would be. Another 3 were over a sacrificial table (for reasons not need explanation) and a very large one in the emperors house. Maybe a royal guard or the Mayor of the village.
These photos have been submitted to many web sites and most people believe that these picture are the real deal. I was freaked when I saw these pictures, because I was actually in the presence of a 600 year old person/spirit.
This is just an experience that I wanted to share to find out what others think.
thanks!