Let's start with some background information. I am Merwin Meibos, I'm 17 years old and I live in Holland. I have lived in a place called Mildam my whole life until we moved to Heerenveen two years ago. In Mildam I had never encountered any paranormal sightings or anything, so as you can guess I was very pessimistic about the idea of ghosts running around.
However, as a child, I can remember a ghostly image that used to talk to me (I was 6 or 7 years old). She used to tell me stories about my former life, and I never had felt scared when I was around her. Now, I can't remember a lot, but I will try to remember as much as possible (keep in mind, these are memories of 10 years ago, so maybe its a little bit silly).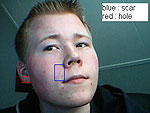 In my former life, I was a stealing lowlife, someone that had a scar and 1 earring (funny detail, I was born with a little hole in my right ear, so the doctors called me pirate, and 4 years ago I got a scar from running through a glass door). I did many bad things, and I won't tell details but one of them was falling in love with a married lady (probably my "ghostly image"). I once kissed her, when her husband was at home, and when he found out, he probably killed me (she didn't want to talk about it). Obviously, she felt something for me too, because when she died, she first had to be around me again.
I told my mother about her regularly, but she had always thought it was my imaginary friend, because I had problems finding proper friends when I was 7. When I grew older, I couldn't see her anymore, so I also chalked it up as a stupid mind trick or something. Nowadays, I'm not so sure anymore, because some strange things have happened in my new room.
The first thing began about a year ago, when my room was finished (my father rebuilt almost every room when we moved in). At night, I could hear knocking sounds from my wall on the right or ticking sounds from my gas stove. At first this didn't scare me, because I could explain these sounds. Nowadays, these sounds scare the hell out of me, because I know what happens, when they go on for a long time.
When that happens, first my speakers start to make a scratching sound (I have a computer in my room, with 2 speakers), not very loud, because my parents never heard it. Next thing are the curtains, they start to move slowly, like the wind is playing with it, only there's no wind. The last thing, is this feeling of being scared, mixed with the feeling like something is watching you. After that, it stops immediately, leaving me in my bed, almost drowning in my own cold sweat, not able to sleep another minute. I haven't told this to my parents, because they don't believe in ghosts anyway.
About 3 months ago, I found out why these things start. Its because I think about the wrong things. I know how stupid this sounds, but every time I start thinking about hitting someone I would really like to punch in the face, the sounds begin. I strongly believe that the ghost can read my mind, and that's why I called it Teacher ghost, because teachers punish you to, when they hear a boy would like to punch someone else in the face.
I'm not sure, but maybe this is still the lady from when I was 7, and maybe this is her way to ensure I won't ever do bad things again. If I'm correct, I thank her, and frankly, I don't want her to leave, because I have loved her in a past life.