I would like to share a few true stories that remain inexplicable to me. I would be interested in any comments or suggestions:
1. When my mother was dying in hospital from a stroke, my brothers, father and other relatives were sitting around the bed. After some time, I smelt cigarette smoke and immediately felt angered by it. I couldn't believe that anyone would smoke in a hospital ward. I stood up and walked to the other end of the ward to find out who was smoking. This was only a small ward with about four beds in it.
Nobody was smoking. I looked out the window, but we were about four levels up from the ground, so no cigarette smoke could have drifted in from there. I went outside the ward, but no-one was smoking. The smell then disappeared and I forgot about it and my irritation. When I spoke about it to my wife later on, she said that she had not smelt smoke. Nobody around the bed had smelt it either. Only then did I wonder if my grandparents, both of whom smoked in life, were also present around the bed. Did they come to take her away? She died the next day.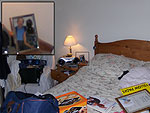 2. A couple of months after my mother's death, I bought my first digital camera. I was trying it out, taking pictures of anything, including our messy bedroom. One of the shots revealed something strange about the photo frame on my bedside table. I zoomed in on the photo frame that held a photo of my mother and father. My mother had been blacked out. Only her arms were visible. The blackening followed the contours of her head and chest perfectly - as if someone had taken a felt tip pen and blacked her out.
I asked numerous photographers how this could have happened. None had an explanation. I sent it to a magazine and it was published. I've still had no reasonable explanation as to how the camera could produce such a perfect fault around a specific person. I wonder if this could be a sign from my mother - that she's not in this world anymore, but was able to show me this. I will submit the photo if someone tells me how to do it!
3. This incident happened many years before my mother's death: I have to take my wife's word for this as I wasn't at home at the time. We have two boys. At this time, one was a baby, the other was six years old. All three were having breakfast one morning when there was a loud crash from upstairs. My wife went to investigate and found the large, sturdy wooden cot that the baby slept in, turned over with the mattress spilling out. She righted it and told me about it when I got home. I experimented with the cot with dismay. It was very difficult to topple over, even with a big effort. We thought it might have been the cat, but this just isn't possible. It takes a big effort with two hands to tip it over. I'm baffled to this day.
4. I was giving a music lesson to a child in a school. On this occasion, the school was practically empty since there was a big rugby event going on on the playing fields. As I was giving the lesson, the cymbal in the middle of the room made a noise, as if it was being tapped. The child and I sat, without making a sound, listening to five definite taps on the cymbal. I turned to him and grinned: "Did you hear that?" I said. He said that he did. I made a joke about we can't both be going mad. I tapped the cymbal with my fingers and this was the exact sound that we had heard. It wasn't a vibration and it wasn't anyone in the corridor. It was definitely that cymbal that was tapping itself. Again, I'm still baffled!