My name is Brittney and I am fifteen years old. Lots of weird, unexplainable things have been going on in my home. Everything that happens in my house only happens when I am alone. Here are some of the things that have happened.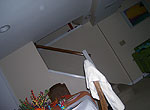 I was eating some candy Mike n' Ikes and I threw about three pieces on the floor for my two dogs to eat as they both were begging me. Neither one of them ate the candy. I got up and I let them both outside in the backyard. I'm in my house completely alone now and I go into the living room to watch some tv and continue to eat my candy. The three pieces are still on the floor. I'm sitting on a small red rocking chair on the floor against the wall when this green Mike n' Ike candy flew across the room and hit my shoulder hard. No one was in the house, including my dogs and I know that it wasn't me, obviously.
Another thing that happened was that I was playing a video game in my living room on this small red rocking chair that sits very low to the ground. I was by myself and it was past midnight. While I was playing something or someone blew in my left ear hard and loud! My mother was asleep and my dogs weren't in the room. I have taken some picture of some of the rooms in my home and a lot of orbs appeared in them, VERY visible.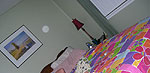 I hear scratching noises in my kitchen and my bedroom closet door moved while I was trying to sleep at 6 am. My dogs bark at walls and empty rooms. I see shadows sometimes, mainly in my kitchen. My kitchen table moved and made a loud bang and woke me up while I was sleeping.
The scariest thing that happened to me was when I was downstairs in my basement where my computer is and I was talking to some friends online. It was about 3 am and my mom was upstairs sleeping. My dogs were sleeping on the other side of the room. I heard this loud growling, moaning noise behind me. It happened three times. I was so scared that I ran up my stairs and sleep with my mother that night in her bedroom!
I never go downstairs at night anymore. I have told my mom all of this and she doesn't believe me, she thinks it's all in my head.
So, can someone help me!? Is my house REALLY haunted? Are there other ways to tell besides taking pictures? I have some pictures if anyone wants to see them. Thank you for listening.