This picture was taken early one morning when I was taking pictures of my kids and just random things. All the other pictures showed up normally, no blurring nothing! I do have a small collection of pictures that show moving orbs and weird white lightning but this one by far has me confused. I am posting it because I would like to share it with others and get some feed back, I will tell a little history about the house that I know.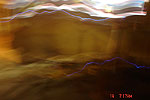 The house my family currently lives in was built in the early 1970's and sits on about an acre of land, it is very large to say the least. The one thing I find interesting is there is a lot of mirrors in the home, I don't know if having lots of mirrors matters at all but for me it's one thing I noticed. I mean an abundance, behind doors, in hallways, in the bathrooms there are huge mirrors and than more mirrors, and even mirror in the bedrooms affixed to the walls. Anyway the house was used as a boarding house before we moved and there are looks on every bedroom door. There is some "activity" in the house upstairs, like sounds of someone walking around, someone throwing boxes, loud heavy noises, and I have witnessed a black shadow moving around upstairs. My 2 oldest children used to sleep upstairs but now refuse to even go up, my oldest son says there is a cowboy that watches him sleep and one night even tucked him in.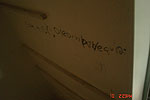 My son isn't scared of him it's the other things he's scared of like the noises and the black shadows he sees. Now the interesting part is when we first moved in I found 2, 5 pointed pentagrams drawn in hidden places upstairs in my oldest's room. One had "Santana" written below it and the other had the numbers 666 written underneath the other. I scrapped them off the wall as to hide them from my children's view if they ever came across them. Now I was organizing my other son's room upstairs and went into one of the closets where I noticed something strange, it was writing that read "I am" followed by random letters and some strange symbols. The funny thing is "I am" is writing well and straight on the wall and after that it is as if someone else wrote the rest. I will include pictures of the writing as well.
Just recently I have been noticing activity downstairs such as I'm in the living room and my hubby was in our bedroom when I heard a chair in the kitchen move across the hardwood, very distinct sound. Thinking one of my children was up looking for water I got up and looked at the table area less than 5 feet away no one was there, obviously I called out to no response and checked on the children but they were all asleep. Than the other night I went to do laundry and it is on the main floor in between the kitchen and 2 bedrooms, kind of in a nook. Well I was folding laundry when I heard someone walking out from the bedrooms, my hubby was in the living room and I assumed my daughter was up. I took 2 steps looked around the corner down the hallway and no one was there and I got chills, I knew someone was watching me I could feel it. The presence I felt was definitely a child, I would guess older around 8-13 yo.
There has been much more but I don't have the time as I am moving out of this house soon and have packing to finish.