This story will be short, and I'm just asking if this means anything or was it done by something. I can barely remember the incident as well, so I can't give out too much detail. I was around four years old when it happened.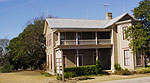 Our house was a two story and the second part overlooked most of the first floor of the house, so you could see people walking up the stairs, or walking through a hallway to one of four rooms.
My mom and I were in the living room of our house when our neighbor knocked on the door. We answered it and let her come in. She just wanted to talk to pass time until her husband came home. I just remember listening to them talk while sitting on the floor. I don't really remember doing much at all. I remember though all of a sudden I heard my mom give out a loud gasp and then the other lady did one as well and their eyes were huge.
I looked up. I saw a red ribbon coming down from the second story of the house. But it wasn't just floating down however which way it wanted, it was coming down in a perfect spiral. I had tons of ribbons because my mom always put my hair in bows. But all of the ribbons were located upstairs in her bathroom. And we were the only three in the house. My dad was at work and my siblings weren't even around yet.
Could that have just been a fluke, just randomly happen? It has always puzzled me. Nothing else ever happened weird in the house that I can remember. I know I was always scared to sleep in my room because of glass figurines of babies in my room. I always swore they turned their heads to stare at me at night, but they were probably just my imagination even though I swear they no longer did that after we moved.
What do you guys think?