My 3.5 year old great niece came to visit in mid-June '10. Our electricity was out on a beautiful 100+ degree day. After playing with her in the pool I went to pick up some ice and drinks for everyone. Upon returning my Wife informed me that the little girl reported that "a mean man tried to kick me". Wife had gone inside to the restroom while niece waited in the living room. I picked her up and walked her through the dark house (12-15 year old house). I wanted to calm her down and I told her we would get rid of the mean man. After covering the entire house she pointed into the living room. She said, "there...and there", while pointing out two locations. I asked if he was still here. She looked UP at the ceiling then around the room. She shook her head. She repeated after me a demand that the man leave and never return.
An hour later she and I were playing in the pool. She got out to retrieve a ball from just inside a gate near the pool. When she reached for the ball she jolted into a stiff, upright position. She then turned and ran, screaming, "he's on the fence now! He's trying to scare me!" She tried to look twice but turned away as if it were too repulsive to look at. I screamed, "tell him to go away!" She turned and yelled out, "go away!". She then completely relaxed and joined me in the pool.
My wife and son were both within feet of her when this occurred. My teenaged son: "that...was...creepy". I asked her where he went. She pointed to my attached storage room/shed, "he went in that other house".
We were slightly creeped out. When her Mom, my niece, returned, we relayed the story to her. She was shocked. Never had she seen her daughter act that way or speak of imaginary friends, etc.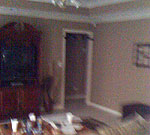 For some reason I cannot explain, I went into my house alone while everyone was outside. I used my iPhone 3g, with it's crappy camera, to take approximately 35 pictures of the area in my living room where she saw the man. I never looked at them until the next evening. Every picture was clear with one exception. One picture was slightly blurry. I almost deleted it without zooming in for details. When I zoomed into the doorway, what I saw made my eyes tear and my skin crawl. A human face. A man. It looks oversized or possibly closer than it appears. I've shown it to dozens of people. Most see it instantly. I cannot see it on my computer but can see it clearly on my iphone. Due to pixel count, I'm sure.
I am happy to share the photo to anyone interested to see it. As long as you can view it on your cell you will see it. Send me an email to jlj0906 [at] gmail.com If I get a request I will send the pic. If you get the pic I want your feedback.
This has my wife and I reflecting on many occurrences since we moved here three years ago. Unexplained noises. My teenaged daughter feels creeped out in one of the bedrooms (right next to the sighting spot). A very strange photo taken of my son when we first moved here... A picture of him with a skeleton next to him. I do not have it. No one knows who snapped it. The camera phone it was on was destroyed in a rain storm. I have no idea how my brain excused that one away. In fact, if I could find that picture it would be one of the most startlingly clear, and creepy photos you have ever seen...
As of this past week our Shi-tzu stares at the same doorway and trembles. She snapped up on our bed the other night and "screamed...not barked... Screamed at the doorway to my bedroom.
Wife heard the back door open after going to bed. Dogs heard it too. They ran into the living room, barking. Uncharacteristic. No one there, of course.
The last occurrence was two nights ago. We painted a room. The room that creeps out my teen daughter. There is a file cabinet in a closet. My wife dragged it out so I could put a computer behind it. When I started to push it back into the closet I noticed the drawers were faced toward the closet door. I started spinning the cabinet around so I could place it back into the closet as it was, drawers out. She walked into the room and questioned why I was spinning it around. Once we talked it out we both realized somehow the cabinet had been turned around without our assistance. She loves living here. This one incident made her ready to pack her bag.