It was a calm, bright sunny August day when my husband and I decided to take a walk down a community walking path we've never been on before. We often get bored of walking around our neighborhood and like to drive somewhere new from time to time.
This particular path started at the road then went in a loop at the end and back to the road again. If we had known it would be such a short walk we probably never would have gone. The path went along side a small brook and there were a lot of trees, but you were also aware of the fact that behind all that nature was a residential neighborhood. Anyway, as we were nearing the loop at the end we walked past an average-looking, middle aged Asian woman wearing a light greyish pink rain coat walking very slowly. I like to make eye contact and say hello when I pass a stranger, but this woman just kept her eyes on the path almost as if she were thinking hard about something so we just kept on without much thought other than a slight comment to my husband as to how I thought it strange how she was wearing a rain coat on such a nice day.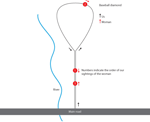 As we started to round the loop we noticed a run down baseball diamond to our right and all of a sudden as if out of nowhere, the same woman is right in front of us with that same expression, looking down at the path. This is when I felt the chills. We tried to figure out how this woman who was walking very slowly could make it back and around that quickly. It would have been possible if she suddenly broke into a sprint, but she didn't look like she was the walk, then sprint, then walk type of person. My husband and I had a laugh about it then kept on our way. We went around the loop and I expected to see her come around the corner, but there was no sign of her which we thought was strange because judging by her pace she should have been crossing our path. As we headed back to the road about five minutes later my husband gasped and grabbed my arm, I looked up and there she was again! This time she was walking towards us! Ok, this time we KNEW this couldn't happen because she would have had to have passed us to be in that spot. As we got closer to her I had a really uneasy feeling as you can imagine. I was praying she wouldn't look up at us because this time I was afraid of what I would see. My husband didn't say anything and just held my hand tight as we passed her. She didn't even flinch wearing that same 'deep in though' expression. This time we both had the chills and looked back, almost afraid she would have disappeared, but there she was, still slowly walking away from us.
We never walked down that path again, but I still doubt myself sometimes and think she HAD to have been real - she looked so real, but I know it would have been impossible for her to have gotten in front of us without passing us.
Is it possible for ghosts to look like real people?
Thanks for reading.