This is something that cemented my belief in the supernatural. Bare with me because this might be a bit long but I guess it's worth it.
It was around the second week of August 2017, only a couple weeks before my birthday and since my partner wasn't going to be in the country on my actual birthday, we decided to celebrate prematurely and take a little trip. We finalized on Jodhpur, since neither of us has really been there but the culture and heritage intrigued us and honestly, all we wanted was to kick back and just spend some quality time with each other.
We booked a room in this absolutely beautiful palace turned hotel for two nights and three days. Now to give you a little background, my partner doesn't believe in the paranormal. He takes things at face value. And demons and spirits are nothing more than fictional beings to him. He hates watching horror movies and doesn't like it when I talk about anything even remotely related to the supernatural. Me on the other hand am a complete believer and I've had certain experiences here and there, and my little guardian angel that lives with me back home. (Read my previous story for more about that)
Anyway, we arrive at this palace and it was honestly one of the most beautiful properties I've ever laid eyes on. It was this stunning three storeyed palace with rooms running along the length of 4 hallways (square shaped) and in the middle was a courtyard with this hauntingly beautiful fountain. Being an architecture buff, I was completely blown away with this palace and while my boyfriend was getting us checked in at the reception, I wandered by myself, exploring the ground floor, roaming along the fountain and the huge carved arched doorways and mosaic tile art hanging behind the reception desk. This place was beautiful.
A Bellboy leads us to our room and we take a shower and settle in bed for a night of watching some tv and getting some rest, as we were too tired from the flight and the long drive from the airport, to go exploring. About a couple hours in, my boyfriend has passed out and I just couldn't sleep so I made the decision to go down and maybe walk around the property and check it out. Maybe get some history. In hindsight, I should've just stayed in the damn room and gone to bed.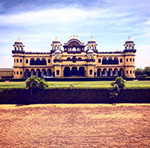 Anyway, I get out of my room around 9:15pm and head straight down to the reception, now keep in mind this wasn't peak season so understandably the hotel wasn't bustling with activity. Only a couple of rooms were booked I guess and so I couldn't find anyone at the reception, I decided to go out and check out the garden area and smoke a cigarette, the watchman asked me to stay inside the premises of the property as the palace was an isolated construction and there wasn't anything around a 5km radius. I went out to the garden area that overlooked the palace and sat myself down on this bench and lit a cigarette and fidgeting with my phone when through the corner of my eye I catch this silhouette run past me. I turned to look...nothing. I figured it was just my imagination going wild but boy was I wrong. A couple minutes later I saw this dark silhouette standing in front of me. It was about 6-7 meters away and quite noticeably masculine shaped. About 5'8"-5'9".
I, being the grade A, scaredy cat that I am, decided to make a run for it. I actually thought I could outrun the damn shadow thing you guys. I made a dash for the reception and thankfully found staff standing behind the desk, I looked behind me to see if the thing had followed me inside the palace but I couldn't see anything. I was panting and confused and terrified. I ran straight up to my room and woke my partner up and narrated the whole thing to him. He looked me dead in the eyes and asked me to stop messing around with him. He didn't believe me. I tried to subdue any thoughts I had about this shadow thing and tried to force myself to sleep.
Around 2:30am I woke up to my boyfriend violently shaking me. He seemed terrified and told me he saw a shadow figure in our room when he got up to use the bathroom. He turned around to wake me up and when he looked back at it, it was gone. He was visibly disturbed and we somehow managed to stay up the entire night, thank you Netflix. We packed up our bags first thing in the morning and got the hell out of that hotel that morning.
I'm not sure who I saw. I'm not sure who my partner saw. I'm not even sure we both saw the same thing, but what I'm sure of is, now he's a believer and I need to stay the hell in my damn room and not go wandering around unknown places in the middle of the night.