I just recently went through a pretty nasty divorce. My ex wife and two children have moved back to my ex wife's home town in PA. Since they left, I have started renting an older home (built in 1925) in a historic district of town here in Winston-Salem, NC (West End District). It's a lovely house with a rich history I'm sure.
Up until recently I haven't felt anything too out of the ordinary. It all started a couple months ago, I had woke up on a Saturday morning, slid down to the end of my bed and was getting ready to start my day when something caught my eye outside of my room. For about 2 seconds I noticed a very tall dark shadowy figure peering at me from behind the bathroom door. I didn't get a bad vibe so I kind of shook it off, even went right in there and took my shower. I always turn the exhaust fan on so the steam will be at a minimum when I get out. With that said, when I did get out and finish drying off, I turned the fan off. I had to pause for a moment because I could hear voices outside the door. When I opened the door, I was shocked to discover that the radio in my room which was off when I got up was turned almost all the way up. My tv in the living room was also turned on and almost up on full blast. Both of them were off when I got in the shower, I am 100% sure and no there wasn't a power bleep.
The second thing that happened was one evening I had a friend over. We were watching tv in my living room. I had an empty 2 liter soda bottle sitting on my kitchen table, right in front of us. Out of nowhere the bottle flew off the table, across the room and hit the wall, bouncing off and came to rest right at our feet! It wasn't wind, it couldn't have been a crease in the bottle that popped back out and made it fall - it went with deliberate force. We ended up stepping outside for a little bit after that one ha ha.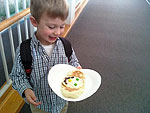 The third "encounter" happened when my sons came down from PA to visit me. It was late, almost 9pm when I got them home from the airport. This was their first time seeing my new house. As soon we walked in the door my three year paused and looked at me wide-eyed and said, "daddy, there is a little boy in here!" "Shouldn't he be getting ready for bed too?" I told Aiden that yes he should be getting ready for bed too, that all little boys need to get to bed because it is late. The rest of the visit went well without anymore experiences.
Lastly, two nights ago around 2:30am I was awakened to something playfully tugging on my freaking earlobe! Granted, I had just woke up but as I laid there, it continued for a few more seconds, plain as day - no denying it! I'm wondering if it may be a little boy looking up to me as a father since he has seen pictures around my house with myself and my boys and had also seen my boys when they visit? I think he may just be a mischievous little guy wanting attention :) I would like for him to move on so that he isn't trapped here in a confused state - or maybe he doesn't know he's dead. The only thing I'm confused about is the tall shadow figure I saw in the bathroom. Heck, could be another spirit... time will tell.