I recently had two experiences with doppelgangers, and that was the first time I've ever seen them before.
The first time I was at my house, home alone, in my bedroom. My bedroom door is always closed, as is my window. I was looking through my bookshelf and sorting things, when I saw my cat dart past me and run under my bed. I hadn't known that the cat was in my room, so it scared me a bit. I bent down and looked under my bed to coax her out, but she wasn't there. A few seconds later I heard meowing, and dashed out of my room to find the cat outside meowing at the patio door.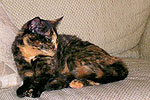 The next time I was at my grandmother's house. My grandmother and I live in different provinces, so I was vacationing there for the summer. This just happened recently, last week.
I was in the hallway when my mom came out of her bedroom and walked into my room. And I saw this very clearly, because I was standing right next to the bedroom door. As a person that likes privacy above anything, I yelled, "Hey What're you doing?" I looked in my room and nobody was there, and I turned around to see my mom walk out of my grandmother's room and say, "What?" carrying laundry.
This is the first time I've seen doppelgangers, so would anyone care to explain some more for me?
I'll gladly give more information if you need it.
I also have pictures of my kitty (XD) if anyone wants to see those.
-Miri-chan