I haven't posted a story here in awhile, because the activity has actually decreased significantly, or has become tolerable. I moved into my new house 1 year ago. Ever since I've moved in, I've had activity from noises, to keys moving along countertops without me seeing the movement.
It's a two storey home. So when I'm downstairs, the upstairs has floor creaking, when I'm up stairs, the downstairs creaks. The creaking travels as if someone is walking around. It will start off in the hall way, and then move to the master bedroom, and then back to the hall way. Occasionally, you'll hear foot steps as well. The house is 30 years old, and yes, on occasion if I'm upstairs, it will creak when I'm walking around, but that's only when weight is applied. No weight applied no creak! It's also not the wind, because this will happen on calm days as well.
Occasionally, I'll also hear what sounds like children laughing in the dining room. It is not clear as day, but sounds like someone has a TV on in a distant room, and muffled.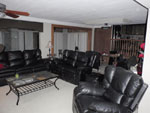 I've tried communicating with the presence, and have even had the house blessed. At most, this decreased the overall activity.
Recently, I went on a hunting trip, and when I came back, it all started up again and with a vengence. It all started on Friday night. I was taking pictures of my dog, for a Christmas album. And I noticed a ton of orbs all over the picture. I took another picture in the same place, and they disappeared. The lens was clean. I took other pictures and noticed occasional orbs as well.
I put up my Christmas lights on Saturday, and the noises started up again. What was frightening was that after I was done in the evening, I laid down on the couch and dozed off. Woke up, and I found my Christmas lights were off, and my hall lights were on going upstairs. (There is a switch for both). This spooked me because I thought someone was in the house. Called my family, and everyone said no one came over. I went outside, and turned off the rest of the lights.
I would have shrugged this off, but my dog got spooked as well. He stared up the stairs to the hallway for awhile. Normally, he'd run upstairs, but not this time.
During the night, there were a multitude of noises, creaking, steps, and a loud boom from I don't know where. It was so noisy; I was convinced an intruder was in my house. I even combed the house with my shotgun in hand, to be prepared for an intruder. Nothing was around. Mind you, I live by my self, my fiancé lives 350 miles away.
I finally got to sleep, and all I could say, is that my dreams were the weirdest dreams I ever had. Can't remember them, but I woke up with a feeling of fright/disgust/anger all at the same time.
Now, what's prompting me to write this is what happened yesterday. I had a friend over, and we were talking for a bit. Heard the creaking again, and we both looked over at where the switch for the Christmas lights are as well as where the thermostat is, and we both saw a white blurry figure 5.5 ft tall there peeping around the wall. It wasn't in the corner of my eye, but I saw it straight on. As quickly as it appeared, it disappeared. I couldn't make out any facial features. I've never seen an apparition before in my house, this was the first.
Again, last night, I heard many noises, and had some disturbing dreams.
I'm kind of at a lost as what to do from here. Maybe I should record EVPs; maybe I should get a ghost hunter kit.
Answers to your questions, and a little about my self. I'm a devout Catholic, no I don't play with Ouija boards; I don't dabble in the occult, or witchcraft. I'm not aware of any deaths in the house, and have tried investigating the history. The previous owner told me I am the third owner, but the whole neighborhood tells me I'm the fourth owner. No one knows of anything bad at the house, then again there is some turnover in the neighborhood. Also, I haven't asked any of the 'old timers' in the neighborhood if there were any deaths in the house for fear of looking crazy.