I know hardly anyone read my story The Temple, so before I write this story, in my previous story I mention the bell in the temple ringing but no one there. That is all I will say.
The temple we have in the flat is the one we took from my then marital home. The children wanted one when they were little so I got this little wooden temple and we put an icon of Ganesh in it. We now have the temple sitting on top of a book cabinet which is to the left of you when you walk into the flat.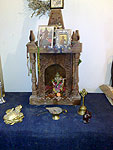 Next to the temple we have a brass little bell, on top we have pictures that have been blessed of The Lord and mounted on the wall is a crown, picture attached (excuse the massive burn mark on the cloth, I stupidly did not check the incense was secure in its holder hence it burned the cloth).
What has been happening for the two to three weeks is I have been hearing bells. At first I thought it was Inka as she has a bell on her collar, but when I have gone to check Inka is nowhere in the flat. She is outside in the garden. I casually ignored this and thought maybe I am just a bit paranoid. We were sitting watching the news the other day and again I heard a bell, again thinking it was Inka, I walked into the hallway thinking she was eating here food but she was not she was actually in our bedroom sleeping.
Very recently I have put a charm bracelet back on a Navajo charm bracelet that was given to me by a friend. I have not touched this bracelet in over a year and it was very black, as silver get when it is not worn, however on putting it back on it is shining. One of the charms sounds likes Inka's bell, and on a few occasions I thought it was my bracelet making the noise, but then realized I have taken it off and put it on the table.
Back to the bell, I do not let anyone ring the bell near the temple, especially at night. My son picked it up once and started to ring it; I got a bit angry with him and asked him not too especially at night. I have heard the bell ringing almost everyday and it is really starting to spook me out. I only ever heard a bell ringing itself when I was married. There is no fixed time to when I hear it but I will hear it at least three or four times a day.
I know the ringing of the bell in the four corners of each room in your property cleanses the property of unwanted energies, could this be why I am hearing the bell? The other strange thing that I feel a strong tug towards is my brass Tibetan singing bowl.